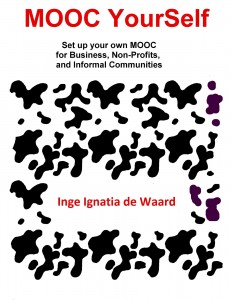 Nóg een boek over MOOC en ook die met een "Leestip" waardering? Ja, dat klopt. Maar wel met de aantekening dat ik zou voorstellen dat je éérst Beyond the MOOC Hype leest en dan dit boek van Inge Ignatia de Waard. Waarom? Nou, omdat Beyond the MOOC Hype voornamelijk gaat over de xMOOC en de achtergronden daarvan en MOOC YourSelf gaat meer in op de cMOOC. En ik denk dat als je ze in die volgorde leest, beide verhalen elkaar heel goed aanvullen.
Daar komt bij dat waar Beyond the MOOC Hype vooral ook op meta-niveau naar de MOOC kijkt, het boek MOOC YourSelf veel dieper in gaat op wat er bij komt kijken, waar je aan moet denken als je zelf een MOOC op wilt zetten. Daarbij gaat het bijvoorbeeld om het didactisch model dat je kunt kiezen (waarbij Inge duidelijk een voorkeur heeft voor het Connectivisme), de wijze waarop je beloningen in kunt bouwen in je MOOC als middel om studenten te motiveren, meer in het algemeen het belang van het aanbrengen van een "Learning Flow" in je MOOC, de tools die je kunt inzetten, kosten en opbrengsten. Daar geldt dat veel van de genoemde tips ook bij "gewoon" online leren van toepassing zijn. Dat geeft Inge zelf ook aan overigens. Maar noemt er ook een aantal die specifieker zijn voor de MOOC context. Maar vanwege het wat generiekere karakter van de inhoud is het ook zeker niet alleen van toepassing op cMOOC alleen. Ook als je een xMOOC wilt opzetten, is het handig om het MOOC YourSelf boek te lezen.
En daarom krijgt van mij de waarderling "Leestip".
Technisch kritiekpuntje: de layout komt er op de Kindle applicatie in landscape modus niet zo heel mooi uit. Er is gekozen voor het uitvullen van de regels (kan ik in de App op iOS niet uitzetten) en de koppen zijn wat groot. Ook zijn de lijsten te ver ingesprongen. Het doet aan de inhoud niets af, maar het leest nou eenmaal een stuk minder gemakkelijk. Bij het Beyond the MOOC Hype boek (ook Kindle, zelfde iPad) had ik dat probleem niet.
Ander punt waar (gezien de commentaren op de website van Inge zelf) mensen over kunnen vallen, ook dit boek is alleen als Kindle boek beschikbaar via Amazon. Maar ook hier wilde ik dat bezwaar voor $2,99 wel even vergeten.