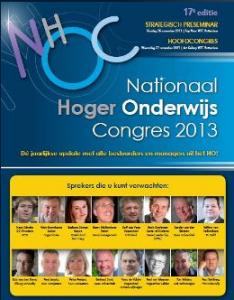 Op 26 en 27 november a.s. vindt weer het Nationaal Hoger Onderwijs Congres plaats. Er bij willen zijn is niet goedkoop, maar gelukkig organiseren ze ook een viertal gratis online webinars zodat we toch een aantal van de sprekers aan het woord kunnen zien/horen. Een aantal ervan zullen bij de lezers van dit weblog zeker al bekend zijn, maar als je ze nog nooit aan het woord gehoord hebt dan is dat zeker een uitgelezen kans.
Het gaat om:
Webinar 1 – MOOC's. Wat is het? Soorten? Trends gebruik?
Donderdag 19 september | 12:00 – 12:30 uur | Robert Schuwer, Associate Professor Open Universiteit.
Webinar 2 – Een kijkje in de keuken van Tilburg University – the making of online colleges
Donderdag 10 oktober| 12:00 – 12:30 uur | Bob van den Brand, Associate professor Tilburg University en TIAS NIMBAS.
Webinar 3 – Talentontwikkeling – aandacht voor uw eigen onderwijspersoneel!
Donderdag 7 november | 12:00 – 12:30 uur | Nus Waleson, Directeur Fontys Hogeschool HRM en Psychologie
Webinar 4 – Praktijkonderzoek in het hoger onderwijs
Donderdag 21 november | 12:00 – 12:30 uur | Dolf van Veen, Lector Grootstedelijk Onderwijs en Jeugdbeleid Hogeschool Inholland en Lector van het Jaar 2012.
Deelname aan de webinars is gratis, maar inschrijven is noodzakelijk. Dat inschrijven kan via de knop op deze pagina. Je hoeft je maar één keer aan te melden om toegang te krijgen tot alle vier de webinars. En uiteraard kun je de uitzendingen ook terug kijken als je op het moment van live-uitzenden er niet bij kon zijn. De webinars worden ook dit jaar weer gestreamed via Mediasite met medewerking van Mediamission.
(getipt door Peter Blijleven)