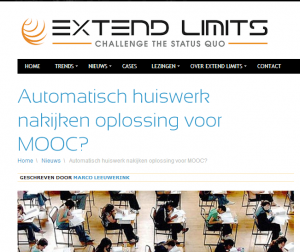 Soms lees je een bericht en krijg je een enorme "deja-vu / flashback". Ik had er vandaag zo eentje toen ik het bericht bij Extend Limits las over het automatisch nakijken van huiswerk. Je hebt het dan namelijk zo ongeveer over de Heilige Graal binnen het onderwijs. Zou het niet mooi zijn als docenten/leerkrachten niet meer iedere keer die proefwerken en tentamens hoeven na te kijken, maar dat dat meteen, snel, foutloos en goedkoop door de computer zou gebeuren?
Fijn voor de docent en voor de student.
Natuurlijk kan dat in beperkte mate al. Meerkeuze vragen, gesloten vragen met korte antwoorden etc. kunnen al lang automatisch nagekeken worden. Maar wat nou bij meer complexe open vragen. Hoe stel je vast of de student het juiste antwoord gegeven heeft.
De flashback was afkomstig van de discussies die we hierover indertijd bij de QTI-projectgroep hadden over een attribuut bij een vraag waarmee aangegeven kon worden of een vraag automatisch (door de computer) te beoordelen was. Was dat bij een open vraag altijd "False"? Daar was zeker niet iedereen het mee eens!
Bij MOOC's, Massive Open Online Courses, waarbij je met duizenden, tienduizenden of zelfs meer dan honderdduizend deelnemers/studenten te maken hebt is met de hand nakijken niet haalbaar. De aandacht voor dit soort courses zal dus een stevige boost zijn voor het onderzoek op dit gebied.
Het artikel waar Extend Limits naar verwijst gaat in op het automatisch beoordelen van programmeer-opdrachten. Dat is natuurlijk wel nog een slag gestructureerder dan echt open antwoorden. Maar het is al weer een stuk complexer dan meerkeuzevragen. Een stap de goede richting in dus. En het laat zien hoe MOOC's, doordat ze specifieke problemen oproepen, bij kunnen dragen aan ook de innovatie van het reguliere onderwijs.