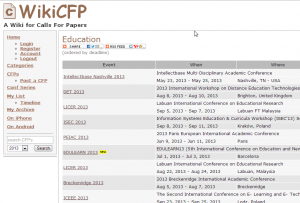 Als je onderzoek doet, of het nou is als onderdeel van een promotietraject of als 'gewoon' als onderdeel van je normale werk, dan wil je de resultaten daarvan ook delen met de wereld. Dat kan in de vorm van artikelen, maar zeker zo leuk is het natuurlijk om erover te presenteren tijdens een conferentie.
Daarbij is het dan ook wel zo handig, eigenlijk heel belangrijk, als datgene waar je over presenteert dan ook in de vorm van een paper in proceedings terecht komt. Dat maakt het namelijk dan toch allemaal net weer wat tastbaarder (en langer bruikbaar) dan alleen een PowerPoint die je op Slideshare zet.
Bij dat soort conferenties gaat er daarom dan wel ook altijd een periode vooraf waarbij mensen opgeroepen worden om papers in te dienen. Die worden dan aan een reviewproces onderworpen en dan goedgekeurd of niet. Het is daarom van belang om op tijd aan de slag te gaan als je op een conferentie een paper wilt presenteren aangezien de procedure soms een maand of 9-10 kan duren.
Op WikiCFP  kun je een overzicht vinden van een heleboel (alle?) conferenties die op dit moment een Call For Papers uit hebben staan. Handig is dat je kunt zoeken/filteren op categorieën, bijvoorbeeld op Education en elke categorie heeft dan een RSS-feed, dus je kunt als je dat wil zo eenvoudig op de hoogte blijven van nieuwe Call For Papers die toegevoegd worden. Handig!