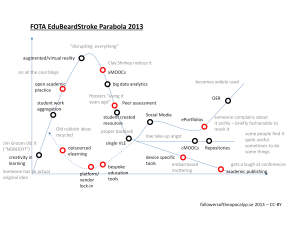 Eerder deze week stelde ik de vraag waar we ons bevonden op de MOOC Hype Cycle, hierbij uiteraard verwijzen naar de Hype Cycle van Gartner.
Dat het een model is dat veel los maakt blijkt ook wel uit de posts van David Kernohan en D'Arcy Norman over de "FOTA EduBeardStroke Parabola 2013". FOTA staat in dit geval voor "The Followers of The Apocalypse", de naam van het blog van David Kernohan, die het model ontwikkeld heeft. David heeft een aantal bezwaren tegen de Gartner Hype Cycle:
Het presenteert de grafiek als een extern, "natuurlijk" proces, los van menselijk ingrijpen. Het wordt verkocht als een hulpmiddel bij het doen van insterteringen. Het is een kaart van een toekomst die niet te wijzigen valt (zo lijkt het).
Het versterkt de mythe dat het allemaal wel goed zal komen. Technologie, hoe dom ook, komt uiteindelijk aan bij het plateau van productiviteit. Als er problemen zijn, dan kunnen we die afdoen als een tijdelijke "Vallei van Desillusie" waar we doorheen moeten. Het is daarna slechts een kwestie van tijd voordat we daar uit komen.
Het is geen cyclus! Er is geen sprake van herhaling, geen verbetering van bestaande technologie. Alles is een trigger, geen aanpassing op basis van ervaringen uit de werkelijke wereld.
Het is, aldus David, niet meer dan een model van een geïdealiseerd gesloten systeem.
D'Arcy voegt daar nog aan toe:
Het is een te eenvoudige weergave van de werkelijkheid.
Het impliceert een gemeenschappelijke context waarbij één stuk technologie voor iedereen dezelfde betekenis heeft.
Het is een eenvoudig antwoord. We hoeven alleen maar even te betalen voor toegang tot het rapport.
Ik ben het deels met de heren eens. Het is wel een eenvoudig antwoord en Gartner verdiend er ongetwijfeld voldoende aan. Maar een model is nu eenmaal een vereenvoudigde weergave van de werkelijkheid, daar kun je niet elk detail en elke nuance in kwijt. Ik heb ook een aantal uitspraken van David, zelf nooit zo opgevat. Voor mij was zo'n Hype Cycle een statusopname: hoe staat het er nu, gemiddeld genomen, voor. En het model heeft voor mij nooit geïmpliceerd dat alle technologieën die er op stonden, automatisch en zonder interventie, de cyclus zouden doorlopen. Integendeel. Nou heeft David een alternatief model opgesteld, maar hij geeft daarbij zelf aan dat het een onzinmodel is:
Methodology: This diagram was prepared by taking one person who thinks too much about learning technology, leaving them on a train for a stupid amount of time and then marinating in beer and nachos.
Dat is natuurlijk wel een beetje jammer. Want ik denk dat zulke modellen echt wel helpen in discussies, overleggen etc. Niet als dé ultieme weergave van de werkelijkheid, maar wel als praatstuk.