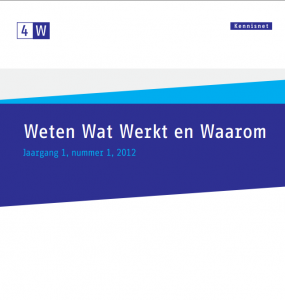 Ik kreeg afgelopen week een mail binnen met een persbericht van Kennisnet. Nou gebeurt dat wel vaker, maar dit was wel een heel interessante. Het was de aankondiging van de eerste editie van 4W, hun eigen wetenschappelijke tijdschrift. Op de website wordt het als volgt omschreven:
4W is het wetenschappelijke tijdschrift van Kennisnet, met artikelen over opbrengsten en werking van ict in het onderwijs. Het richt zich op de algemene principes die verklaren waarom een ict-toepassing in een zekere context wel of niet werkt. Het kan gaan over ict voor leren, organiseren en professionaliseren. 4W brengt hiermee in kaart wat we weten over wat werkt met ict in het onderwijs, alsook welke praktijkvragen nog niet beantwoord zijn.
Ik wilde niet gewoon het persbericht online gooien, dus moest ik eerst even de tijd hebben om de artikelen in dit eerste nummer te lezen. Het zijn er vijf: Optimaal feiten leren met ict door Hedderik van Rijn en Menno Nijboer, Educatieve software voor jonge kinderen door Adriana G. Bus, Observationeel leren van videovoorbeelden, Vincent Hoogerheide, Sofie M. M. Loyens en Tamara van Gog, Onderzoekend leren met computersimulaties door Ton de Jong en Wat bepaalt de kwaliteit van digitaal leermateriaal? door Arno Reints en Hendrianne Wilkens.
De eerste editie is op papier te bestellen via de website of als PDF te downloaden. Nieuwe edities verschijnen vier keer per jaar.
Grote vraag is natuurlijk: is het de moeite van het downloaden waard?
Lees verder….