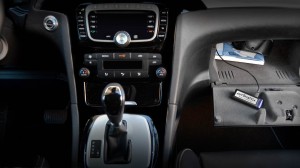 Engadget verwijst vandaag naar een interessant product: Automatica. Het is een oplossing voor mensen met een autoradio met USB-aansluiting die desondanks nog niet voldoende variatie aan muziek in hun auto hebben.
Het idee is simpel: de Automatica is een soort van USB-stick, je auto ziet hem in ieder geval als USB-stick, maar het is eigenlijk gewoon een kleine 'computer' met een ARM Cortex A8 processor en een WiFi 802.11b/g chip er in. En dat betekent dat de Automatic slimme dingen kan doen. Een van die dingen is dat je via de website van Automatica kunt instellen dat als het apparaat in de buurt van je Wifi netwerk thuis is (als je auto op de oprit staat of voor de deur), de Automatica zichzelf automatisch synchroniseert met een door jou ingestelde Dropbox map (of een map op Google Drive, Box of Skydrive). Dat betekent dat je vanaf je laptop/pc/Mac/tablet op afstand kunt bepalen welke muziek er de volgende dag op je autoradio te horen is.
Ben je een fan van podcasts, dan is dit ook een apparaat voor jou, want je kunt ook instellen dat je podcasts automatisch gesynchroniseerd worden.
Het apparaat kost $99,- en daar zitten dan 2 jaar gebruik van de dienst bij inbegrepen. Onduidelijk is nog wat het daarna per jaar gaat kosten. Dat is natuurlijk een beetje jammer, want je kunt nu niet inschatten of je het daarna ook nog het geld waard gaat vinden en je kunt in ieder geval verwachten dat het je jaarlijks een x bedrag blijft kosten.
Lees verder….