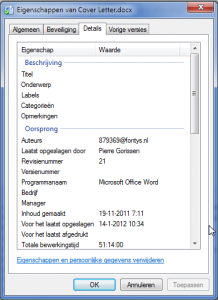 Ik weet niet of je je het als eens gerealiseerd hebt, waarschijnlijk wel als het je al eens een keer overkomen is dat je een document verstuurde met teveel informatie, maar Word houdt heel wat informatie bij over je document. Deels ongevraagd, deel bewust.
Zo maak ik vaak gebruik van "track changes" ("wijzigingen bijhouden") bij verschillende versies van artikelen. Als ik ze (extern) laat controleren op spelfouten en taalfouten (in het Engels) of als het voor commentaar naar mijn promotiebegeleider gaat dan krijg ik die wijzigingen eveneens retour op die manier. Of anders in de vorm van opmerkingen bij de tekst. Dat zijn zaken die Word bewust voor mij bijhoudt naast de reguliere tekst van het document.
Maar Word houdt ook bij hoeveel verschillende versies van een document je gemaakt hebt, wanneer het document aangemaakt is, voor het laatst opgeslagen is (en door wie) en hoeveel uur je het document bewerkt hebt.
Op zich niets mis mee, maar als je zo'n document naar iemand anders wilt/moet versturen dan wil je dat waarschijnlijk niet. Een editor van een journal hoeft niet te weten hoeveel revisies van het manuscript je gemaakt hebt of hoeveel uur je volgens Word aan het document gewerkt hebt. Dat geldt natuurlijk ook voor een docent wanneer je als student een rapport op die manier inlevert.
Gelukkig is hier wat aan te doen.
Lees verder….