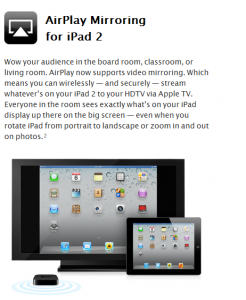 Google Reader liep gisterenavond over met berichten over de Apple aankondigingen als een Nederlandse dakgoot bij een spaarzame regenbui. Ik zal het daarom niet erger maken door hier ook nog eens een keer alle magische features van iOS 5 te herhalen. Een besturingssysteem voor de iPhone 3GS, iPhone 4, iPad 1, iPad 2, iPod Touch 3e en 4e generatie, dat gisteren door Apple werd aangekondigd, maar pas dit najaar (over een maand of 4-5) beschikbaar komt voor consumenten. Op de meeste van die 200 features kan ik eigenlijk ook best wel even wachten.
Ja, het nieuwe notificatiecentrum is ongetwijfeld een verbetering, leuk dat Safari beter geworden is en dat je op een iPhone 4 nu nog gemakkelijker foto's kunt maken (ik heb privé een iPhone 3GS die nu 2 jaar oud is, had dan eigenlijk meer gehad aan een aankondiging van een iPhone 5), super dat je geen PC of Mac meer nodig hebt om een iPhone of iPad voor het eerst te activeren. Software updates via die weg gaan alleen echt handig als je geen jailbreak uitvoert, dus heb ik nog even niets aan. Datzelfde geldt voor Wifi-sync met iTunes. Ik haat iTunes als backup optie voor mijn iPad en iPhone.
Nee, de enige feature waar ik écht heel nieuwsgierig naar ben is de aangekondigde Airplay Mirroring voor de iPad 2. En dan vooral voor wat betreft dat kan betekenen in het onderwijs.
Lees verder….