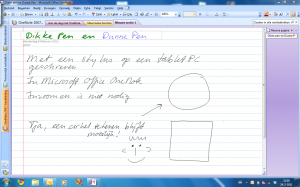 Het is een vraag/behoefte die in verschillende vormen regelmatig voorbij komt, daarom de hoogste tijd om de antwoorden even op een rij te zetten (voor zover ik die heb). Met de komst van digitale schoolborden in het hoger onderwijs zien ook meer docenten het nut in van het tijdens de les digitaal uitschrijven van hun uitleg. Dus niet meer op een krijtbord of whiteboard de opgaven, modellen of structuren uitleggen, maar op een touchscreen waarbij de studenten meekijken via het door de beamer geprojecteerd beeld.
Die touchscreens hebben als voordeel ten opzichte van een digitaal schoolbord dat je als docent met je gezicht naar de studenten kunt blijven staan. Je kunt de uitleg na afloop eenvoudig opslaan en digitaal beschikbaar stellen en alles wat je op het beeldscherm doet, inclusief jouw audio en eventueel video, kan eenvoudig in een screencast (schermfilmpje) of weblecture worden opgeslagen.
Zulke touchscreens zijn echter niet altijd even goedkoop, hier betaal je bijvoorbeeld voor een 15 inch uitvoering van een SMART Podium het mooie bedrag van €1.999,- excl. BTW.
Kan dat niet goedkoper? Bijvoorbeeld door het gebruik van een iPad? Is de vraag die ik dan krijg.
Lees verder….