Gisteren werd Google Cloud Connect for Microsoft Office gelanceerd. Het is een plugin voor Microsoft Office 2003, 2007 of 2010 waarmee je je documenten vanuit Officeprogramma's kunt synchroniseren met 'de Google Cloud'.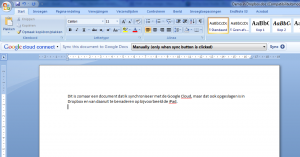 Google cloud connect is na downloaden en installeren prominent aanwezig in je Office omgeving. In Office 2007 zit hij niet netjes in de "ribbon" zoals andere uitbreidingen wel netjes doen, maar direct in beeld boven je document. Je kunt kiezen voor handmatig synchroniseren (heb ik hierboven gedaan) of automatisch. Meer dan inloggen met je Google account hoef je niet te doen.
Je ziet de documenten in je verzameling documenten in Google Documenten. Maar je moet wel opletten: Je kunt de documenten die je zo synchroniseert niet in Google Documenten bewerken. Zodra je dat probeert zal Google een kopie maken van het document. Jouw wijzigingen worden dan na afloop niet met de versie die je in Microsoft Office aan het bewerken was.

Je bent op dit moment beperkt tot Office op Windows, er is nog geen Mac-versie van de plugin beschikbaar. Ook op de iPad is meekijken alles wat je kunt doen.
Binnen die Windows omgeving is het best een handige tool. Google heeft er voor gekozen om de updates niet realtime te maken. Het is dus niet zoals bij de nieuwe documenten editor van Google documenten waarbij je elke deelnemer ziet typen. Pas bij het weer synchroniseren worden wijzigingen doorgevoerd. Dat is handig, zegt Google, omdat je dan ook gewoon offline aan de documenten kunt werken. Eventuele conflicten kun je achteraf oplossen door een van de edits te selecteren. De synchronisatie met Dropbox verloopt niet altijd vlekkeloos. Als je dus een document opslaat in een Dropbox-map, via Word synchroniseert met Google Cloud Connect, en het op de iPad bewerkt in Documents to Go, dan moet je even goed opletten waar de updates al naar toe doorgevoerd zijn. Dropbox kan de Word documenten namelijk niet synchroniseren terwijl je ze nog in Word open hebt. Dat kan Google Cloud Connect wél.
Samenvattend: Google Cloud Connect is bij mij op de computer nu nog geen blijvertje. Veel te prominent aanwezig en beperkt tot Windows. En sommige documenten vertrouw ik gewoon liever niet aan Google toe. Maar, Google kennende wordt dit product nog wel even doorontwikkeld. Dus wel iets om in de gaten te houden.