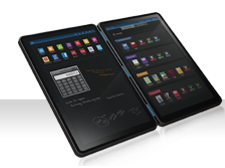 Ik kan niet zeggen dat ik het zo heel verrassend vind, maar uiteraard wel teleurstellend. Het gerucht gaat dat Kno, het bedrijf dat de studenten-tablet zou gaan leveren voor sterke studenten, de handdoek al weer in de ring gooit. En dat nog voordat de mensen die er eentje op pre-order besteld hadden, hun exemplaar ontvangen hebben.
Sources said Kno execs have recently decided that the quicker-than-expected uptake in tablet production by a multitude of powerful device makers had made its efforts to package a seamless offering less critical.
Dat klinkt voor mij als "we hebben ons vergist in hoe moeilijk het is om een goed hardware + software platform te maken. We zien nu dat het ons nooit gaat lukken om dit goed te krijgen".
Het verhaal over dat ze zich gaan richten op het aanbieden van hun "robuuste" platform op andere, bestaande tablets, klinkt leuk, maar zorgt er voor dat ze hun unieke positie kwijt zijn. Als je nog maar gewoon een softwareleverancier voor de iPad en Android zijn, zal het veel en veel moeilijker zijn zich te onderscheiden van de rest. Jammer, maar helaas dus. Ik vrees dat niet veel van de investeerders in het bedrijf veel van hun geld terug gaan zien.