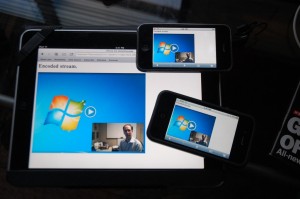 Wat moet het op dit moment toch heerlijk zijn om Steve Jobs te zijn. Als zelf je grote concurrenten, zoals Microsoft, hun best doen om jouw voorspellingen uit de doen komen. Als zij hun producten aanpassen aan de beperkingen van jouw product.
De iOS familie, iPhone / iPod Touch / iPad, heeft geen ondersteuning voor Flash, maar ook niet voor Silverlight. Dat is onhandig, zeker als het gaat om het aanbieden van video, want dat gebeurt vaak via een player in Flash of Silverlight. Ik heb al eens geschreven over de Wowza server (ook in gebruik door SURFnet) die live streamen naar de iPad mogelijk maakt.
Maar wat blijkt nu, ook IIS7 and Media Services 4 hebben inmiddels ondersteuning voor het streamen naar iOS apparaten. Ook daar kunnen "gewone" kijkers dan Silverlight gebruiken en de iPad/iPhone/iPod Touch gebruikers krijgen dan een videostream aangeleverd die voor hen geschikt is.
Scott Hanselman beschrijft het uitgebreid in deze blogpost. Bij gebrek aan server met IIS7 en Media Services 4 kan ik het zelf niet testen. Maar uitzonderlijk vind ik het wel.