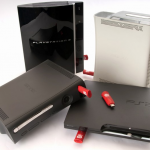 Nee, het is natuurlijk niet echt een USB-stick met een oneindig grote hoeveelheid opslag op de stick zelf. Maar voor veel apparaten, met name dus apparaten die alleen met 'gewone' USB-sticks overweg kunnen zal deze Infinitec USB-stick wel die indruk wekken.
Het concept is geniaal: je hebt er niet één, maar twee nodig. De ene stick sluit je aan op de computer waar de bestanden staan die je beschikbaar wilt maken. De andere sluit je aan op je PS3, je XBOX 360, je Wii, je printer, noem maar op. Een apparaat dat bestanden van een USB-stick kan lezen. De Infinitec USB-stick heeft echter geen Flash-geheugen aan boord, maar bevat een complete draadloze internetverbinding. En dan ook nog eentje waarvoor het niet nodig is om software te kunnen installeren (zoals bij 'gewone' USB adapters voor draadloze netwerken).
Je kunt het dus ook gebruiken om snel een ad-hoc netwerk tussen twee computers tot stand te brengen, je stopt de 'ontvangende' kant in de computer waar je bestanden naar toe over wilt zetten en die computer ziet een USB-stick met daarop alle bestanden die je aan de zendende kant gedeeld hebt.
Het is nog niet bekend wat een set moet gaan kosten, en er zullen in het gebruik ongetwijfeld nog wel een paar haken en ogen aan blijken te zitten. Zo ben ik benieuwd of het ook twee kanten op kant, dus dat de 'ontvanger' er bestanden mee op kan slaan. En of pairing van de zendende stick met de broncomputer altijd echt zo eenvoudig werkt zal ook moeten blijken. En wat als je een verbinding tussen een NAS en je PS3 wilt opzetten? Dus waarbij beiden geen 'gewone' computer zijn?
Maar als concept sowieso heel interessant.
(getipt door Engadget)