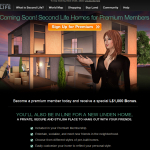 Ik schrijf niet zo vaak meer over Second Life omdat er gewoon niet vaak iets nieuws over te vertellen is. Het wordt nog steeds gebruikt door een vaste groep mensen, ook in het onderwijs, ook bij Fontys. Maar ja, races met slakken gaan na een tijdje ook vervelen, het zeilen in Second Life wordt niet meer uitgezonden, het modeprogramma wel nog en dirt racing doe ik liever gewoon in Colin McRae Dirt-2. Het wachten is wat mij betreft op een volgende stap, de site van het headtracking project is stil, augmented reality en Second Life bestonden al veel langer dan dat het op de iPhone beschikbaar is, maar ook daar al een tijd geen zichtbare ontwikkelingen.
Kortom, het wordt wel weer eens tijd voor een stap voorwaarts. En die komt er nu. Als je voortaan een betaald account neemt op Second Life, dan krijg je gratis en voor niks, je eigen virtuele huis. Wauw, jemig, dan kan ik: "entertain, socialize and meet neiw friend in the neighborhood".
Ik hoop niet dat dit de enige ontwikkeling is waar we het de komende twaalf maanden mee moeten doen, want dan ga ik vrezen voor de levensvatbaarheid van dit bedrijf.