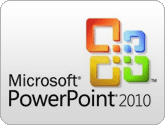 Ik zou normaal gesproken geen aandacht besteden aan een bèta van Microsoft Office 2010. De redenen daarvoor zijn simpel: mijn werkgever installeert nog steeds overal Office 2003 en zelf ben ik nog druk bezig met het wennen aan de "ribbon" in Office 2007. Dus weer een nieuwe versie is niet iets waar ik direct warm voor loop. Maar nu las ik in deze review dit stukje:
In older versions of PowerPoint, videos would have to be linked from PowerPoint to the internet, or to the correct file on your computer. This would cause problems if the internet connection was lost; the file was moved; or when trying to use the PowerPoint file on another computer. It also meant that video could not be edited when in PowerPoint, and when embedded, was in a simple rectangular frame.

2010 has changed the way videos are used in PowerPoint. You can now insert a video file directly into PowerPoint, which, aside from making life a lot easier for the presenter, actually enables the video to be edited within PowerPoint itself. You can adjust the length, brightness, colour, frame… In short, PowerPoint now covers all the basics in video editing, reducing the need for additional software to prepare video for use in presentations.
Zou het dan toch zo zijn? Zou PowerPoint eindelijk, na al die jaren hannesen dan toch volwaardige ondersteuning krijgen voor video. Er wordt overigens niet bij verteld of het ook nu alleen voor WMV en AVI goed geïmplementeerd wordt of dat je ook FLV-video gaat kunnen invoegen.
Toch maar in de gaten gaan houden hoe het met die Office 2010 editie verder gaat.