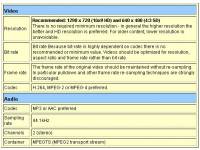 "YouTube recently began offering users an option to view content in high definition- 720p resolution (when the source upload supports it). Please note, we are currently experimenting with this feature and optimizing it accordingly, so we can't guarantee that your videos will always be transcoded into this format with this user option present. (Please also note this is only visible in US right now).
For an example of a video being streamed in 720p resolution, please click this link and then click on the text toggle 'watch in HD' located beneath the right hand corner of the player."

(bron)
YouTube heeft eindelijk informatie online gezet over de nieuwe voorkeurformaten van video die je toevoegt aan YouTube.
Daarbij staat nu dus ook 1290 x 720 (16×9 HD) naast het al bekende 640 x 480 (4:3 SD). Opvallend is dat, in tegenstelling tot wat zowel Hans Mestrum als ikzelf voorheen dachten er blijkbaar geen eisen worden gesteld aan de minimum bitrate.
Wellicht wél belangrijk is de 'disclaimer' die YouTube op de pagina heeft opgenomen en die ik hierboven citeer. Er is dus nog geen garantie dat een video daadwerkelijk ook in High Definition formaat beschikbaar is.
Ook vandaag weer had ik een video in WMV formaat die niet als HD herkend werd, terwijl ik daar vorige week geen probleem mee had. Daarom upload ik een HD video eerst als "private" (dus niet voor iedereen zichtbaar) en wacht af of hij ook daadwerkelijk als HD herkend wordt.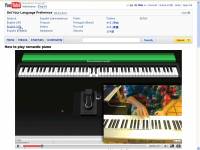 Tot slot nog even een opmerking over het "only visible in US right now". Dat is een beetje verwarrend omdat je ook vanuit Nederland best HD video kunt bekijken op YouTube.
Maar er zijn een paar verschillen die je zelf kunt zien als je de taal-instelling (Taal, niet Land!) aanpast naar English (US). Niet alleen zie je dan "watch in HD" onder de video staan, als je daar dan op klikt wordt de video op YouTube zelf breder weergegeven dan wanneer de taal op Nederlands staat. Je ziet het in de screenshot hierboven van deze grappige en interessante video met pianolessen van Torley.
Wil je al direct naar de HD versie linken, gebruik dan &fmt=22 achter de URL. Dat werkt ook als je taalinstelling op Nederlands staat. Dus http://nl.youtube.com/watch?v=0AKw16S2jfY geeft standaard de 'gewone' versie en http://nl.youtube.com/watch?v=0AKw16S2jfY&fmt=22 geeft de HD versie.
De breedte van de weergave bij YouTube is echter wél volledig taalafhankelijk.
Overigens, het YouTube embedcode formulier dat ik hier toelicht voegt ook die &fmt=22 toe aan de link.