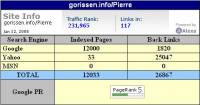 "It looks like Google may be playing around with everyone's PageRanks again."

(bron)
Inderdaad, toen ik nadat ik het bericht bij Mashable zag controleerde wat de Pagerank voor de site hier is, bleek ik weer terug op een PR van 5 te zijn.
Vorig jaar oktober duikelde ik bij de vorige grote Pagerank update opeens van 5 naar 3. En ook al had dat gelukkig toen geen gevolgen voor de vindbaarheid, het is toch wel prettig om daar terug te zijn waar ik de jaren daar voor ook stond.
Vraag blijft natuurlijk: wat was de reden van de verandering in oktober?