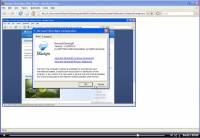 Nog 4 dagen wachten totdat versie 5 van Camtasia Studio beschikbaar is.
Eerder schreef ik al over:
* SmartFocus
* De nieuwe recorder
* Projectinstellingen voor afmetingen
* Transitions and callouts
* Verbetering in Flash Video uitvoer
* Bewerken in 30 beelden per seconden
Vandaag in de sneak peek een feature dat weliswaar ongeveer samenvalt met de release van versie 5, maar die je ook zult kunnen toepassingen in Camtasia versie 4. De screencast laat namelijk zien hoe je kunt exporteren naar WMV-formaat zodat je video compatible is met Microsoft Silverlight.
En daar kan ik eerlijk gezegd niet warm of koud van worden. Want persoonlijk heb ik geen enkele reden om dat te willen en ik kan ik geen voorbeeld verzinnen van mensen in mijn omgeving die dat persé zouden willen. Natuuurlijk, als je aan een project bezig bent waar dat een voorwaarde is, zul je er blij mee zijn.
Formaten die ik meestal gebruik zijn:
* Quicktime, geschikt voor iPod
* Quicktime, geschikt voor streaming en download (heeft markers, is groter dan de vorige)
* WMV, geschikt voor streaming en download
* WMV, geschikt voor pocket PC (gebruikt andere codec dan de vorige)
* FLV (Flash video)
Ik neem aan dat ik in mijn geval de streaming versie zou kunnen vervangen door een versie die Silverlight compatible is. Dan wil ik wel weten of dat betekent dat de stream alleen met Mediaplayer versie 11 te bekijken is. Want voor Camtasia versie 4 wordt uitgelegd dat je die versie van Mediaplayer moet installeren om de juiste codecs te hebben. Nou ja, we zullen zien.
Disclaimer: ik wordt niet betaald voor deze posts over Camtasia Studio v5. Ik heb zelf ook niet de beschikking over een bèta versie en moet dus af gaan op het informatie op de Visual Lounge weblog.