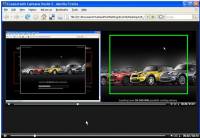 En dan komt de nieuwe versie van Camtasia Studio (versie 5) beschikbaar. Op het Visual Lounge weblog zal Betsy Weber elke dag een sneak preview plaatsen tot aan de lancering van de nieuwe versie. De eerste feature mag er meteen al zijn, die heet SmartFocus.
Ik heb tot nu toe de optie voor automatisch pan and zoom in Camtasia nog nooit gebruikt. Dat moest je tijdens het opnemen al aanzetten en gaf nooit echt overtuigende resultaten. Maar SmartFocus kun je ook achteraf toepassen en past zich aan aan het beoogde uitvoer formaat.
Mooi is dat de zoom effecten die zo worden toegevoegd 'gewoon' in de zoom track terecht komen, dus als je er net eentje tussen hebt zitten die je niet zo perfect vind, dan pas je die alsnog handmatig aan.
Ik heb geen idee wat de volgende negen sneak previews nog kunnen brengen, maar dit is al voldoende reden om te upgraden naar versie 5. Want dit wil ik natuurlijk zelf testen om te zien of het écht zo handig werkt als in de screencast die je bij Visual Lounge ziet.
Overigens (nee, ik krijg hier niet voor betaald), als je nu versie 4 aanschaft dan krijg je een licentiesleutel die ook op versie 5 werkt.