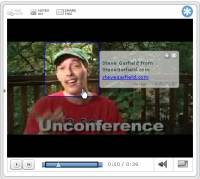 Hoewel hij ongetwijfeld niet de eerste was die het gebruikte zag ik de techniek voor het eerst in actie bij Steve Garfield bij zijn aankondiging van PodCampBoston.org. In die video zie je klein draaiende icoontjes die aangeven dat er een popup en een link achter zit. Het is een optie die aangeboden wordt door Asperix en ze noemen het zelf hypervideo.
Wat is hypervideo
Het lijkt een beetje op de markers die je in Viddler kunt toevoegen. Maar hier kun je ook de plek 'in' het beeld aangeven waar de marker betrekking op heeft en daar dan tekst of een link aan verbinden.
Niet fijn
Ik ga het echter zelf voorlopig niet gebruiken. Ik heb een paar andere filmpjes bekeken op de Asperix website, bijvoorbeeld deze met een surfer op een gigantische golf, en merk dat het erg vervelend afleidt van de film zelf. Het 'cirkeltje' staat steeds precies op de interessante delen van de film.
Natuurlijk, ik kan de optie helemaal uitzetten, maar zoals ik hieronder zal uitleggen lijkt me een tussenweg beter.
Overigens: de URLs in de popups zijn voorzien van een 'event' prefix en Firefox weet daar bij mij in ieder geval niet mee om te gaan.
Hoe dan?
Liever had ik een combinatie van de optie van Viddler met Asperix. Dus dat je in de afspeelbalk onder de video kunt zien of er markers in de video zitten en dat die marker in de video zelf alleen zichtbaar zijn als ik met de muis over de video heen ga.
En als ik het kan bedenken dan is het vast iets dat binnenkort in een van de vele online diensten terug te zien zal zijn.