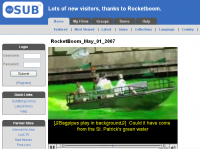 Op de dotSub staat "Lots of new visitors, thanks to Rocketboom". Tja, als Rocketboom een aflevering aan je besteed én besluit voortaan elke aflevering ook via dotSUB beschikbaar te stellen, dan trekt dat de nodige nieuwe kijkers. Wat is dotSUB?
dotSUB is een videohostingwebsite die het relatief gemakkelijk maakt om video's van ondertitels te voorzien. Na het toevoegen van een video is het de bedoeling dat er een "transcript" gemaakt wordt. Een soort basisvertaling. Bij het uploaden kun je aangeven wie dat mag (jijzelf, een beperkte groep gebruikers of iedereen). Op basis van dat transcript kunnen anderen dan nieuwe vertalingen toevoegen. Ook daar kun je weer beperkingen aan stellen.
Bij het toevoegen van vertalingen kun je een bestaande vertaling maken en dan aangeven welke vertaling je daar aan toe wilt voegen.
Mooi is dat de maximale omvang van een videobestand maar liefst 300 MB mag zijn. Maar op welke manier de site op termijn de hostingskosten daarvoor denkt te dragen is nog even niet duidelijk.
Het maken van de eerste transcript is overigens vreselijk werk. Als test heb ik een van de video's die we in Vancouver gemaakt hebben toegevoegd, maar ik kwam niet verder dan 30 seconden van de in totaal 6 minuten.
Daarna haakte ik af en ik moet er niet aan denken dat ik op die manier ook de andere 7 video's (+ het restant van deze eerste) zou moeten doen.
Dus…hoewel het een goed idee lijkt, lijkt het me toch vooral iets wat een goed idee is als iemand anders het voor je doet.
Nou ja, en daar kan natuurlijk wel een markt liggen. Zeker in delen van het Nederlands onderwijs waar het hebben van Nederlandstalige of anderstalige ondertiteling handig, wenselijk of noodzakelijk is.
En dan heb ik het zeker niet alleen over de situaties waar men het Engels niet meester is.
Maar, of ik er ooit eentje volledig af maak…ik weet het niet.