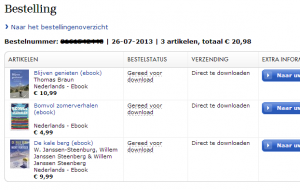 Vergissen is menselijk. Moet kunnen. En dan moet je ook durven toegeven dat je je vergist hebt. En ik heb me vergist toen ik me tot nu toe uitliet over de vraag of "Social DRM" bij elektronische boeken, op dit moment het meest toegepast in de vorm van een watermerk, slecht of niet slecht was.
Ik zei dat ik het een niet erge vorm van DRM vond. Omdat het namelijk, in tegenstelling tot bijvoorbeeld Adobe DRM, voor 'gewone' gebruikers geen enkel probleem opleverde. Een EPUB met watermerk is/was in elk programma te lezen dat EPUB ondersteund, je kunt het desgewenst converteren naar een ander formaat etc.
Om die reden had ik ook geen enkele behoefte om het watermerk uit mijn gekochte boeken te verwijderen (bol.com gebruikt sinds kort watermerken). Verspreiden wil ik ze toch niet.
Maar de berichten van afgelopen week hebben me doen inzien dat elektronische boeken met watermerk uiteindelijk gewoon net zo slecht zijn. De reden: er worden nieuwe bepalingen opgesteld door het CB waardoor ebook verkopers (zoals bijvoorbeeld bol.com) in de toekomst verplicht worden om klantinformatie door te geven aan auteursrechthebbenden en Stichting BREIN indien er sprake is van een "verdenking op inbreuk van de auteurswet", bijvoorbeeld als een ebook met watermerk wordt aangetroffen op een torrentsite of op usenet. Die verkopers moeten die data 2 jaar bewaren.
Goed, noem het naïef maar ik had me niet gerealiseerd dat dít de manier zou worden waarop men het ongeoorloofd verspreiden van zulke EPUB bestanden tegen zou willen gaan. Dat betekent dus dat niet alleen mijn persoonsgegevens + aangeschafte boeken door de verschillende boekenverkopers 2 jaar lang bijgehouden moeten worden maar ook "bij verdenking op inbreuk van de auteurswet" doorgespeeld zullen worden aan BREIN.
Lees verder….