Op Kickstarter kom je heel wat verschillende projecten en producten tegen. Soms denk ik "ja, hebben", vaak ook "nee, laat maar" en soms weet ik het eigenlijk niet. De ParaShoot valt heel nadrukkelijk in die laatste categorie.
Het is een klein apparaatje dat je om je nek hangt en waarmee je de hele dag door video-opnames in 720p kunt maken.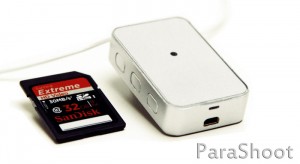 Oh, zoiets als Google Glasses? Nou nee, toch ook weer niet helemaal. Het apparaatje beperkt zicht tot het maken van video-opnames, maar het kost ook maar 1/10 van Google Glasses ($149 in plaats van $1500,-) en is een stuk onopvallender. Het ziet er een beetje uit als een groot uitgevallen hanger om je nek. Pas als het apparaat gemeengoed zou worden of als er heel veel heibel over komt, zal dit mensen gaan opvallen.
De beelden die je ziet in het filmpje hierboven zijn van goede kwaliteit. En voor tijdens een bezoek aan een tentoonstelling of andere evenementen waar je eigenlijk graag wel een video / stukjes video van wilt hebben zónder dat je steeds moet stoppen om je iPhone uit je broekzak te halen, lijkt me dit ook heel geschikt.
Maar het brengt ook de nodige verantwoordelijkheid met zich mee voor wat betreft de privacy van de mensen om je heen. Er zijn nog steeds af en toe mensen die denken dat ik over elk gesprek dat ik heb of over echt alles wat ik mee maak blog. Nou echt niet dus. Maar met zo'n kastje om je nek, weten ze nooit wanneer er wel of geen opname gemaakt wordt.
Ik ben nog geen backer van het project. Maar ik moet toegeven dat het me nog steeds intrigeert. Ze moeten nog heel wat geld (nog $249.835 van in totaal $260.000) binnen halen in de resterende 44 dagen en hun vorige project haalde het gelddoel niet. Dus wie weet wordt het product wel nooit realiteit.