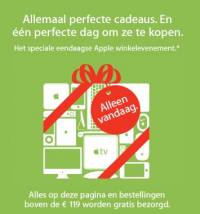 "Black Friday is the Friday after Thanksgiving in the United States, which is the beginning of the traditional Christmas shopping season. The term dates back to at least 1966, although its usage was primarily on the East coast. The term has become more common in other parts of the country since 2000. Because Thanksgiving falls on the fourth Thursday in November in the United States, Black Friday occurs between the 22nd and the 29th of November."

(bron)
Het is vandaag Zwarte Vrijdag (Black Friday) in de Verenigde Staten. Het is een begrip dat we (gelukkig) in Nederland nog niet kennen, wij hebben wel Goede Vrijdag en af en toe een Zwarte Zaterdag. En hoewel we tegenwoordig wel al op beperkte schaal aan Halloween doen, is het niet te verwachten dat Thanksgiving Day, het feest dat in de Verenigde Staten op de vierde donderdag in november (gisteren dus in 2009) naar deze kant van de oceaan overwaait. Dus een directe aanleiding om ook in Nederland een Zwarte Vrijdag te hebben is er niet.
Hoe dan ook, het is dé start van het koopseizoen voor de kerstdagen en ook een dag waarop de nodige "alleen vandaag" aanbiedingen te vinden zijn.
Wij merken daar niet veel van, al zou je natuurlijk elektronica vandaag online kunnen bestellen in de VS en dan laten versturen.

Apple is, zover ik weet, de enige online winkel die Black Friday internationaal viert. En dus zijn er vandaag de nodige aanbiedingen te vinden. Als je, zoals ik kan, via SURFspot bij Apple kunt kopen, dan zijn er helaas nauwelijks voordeeltjes te behalen vandaag. De reguliere prijzen zijn dan namelijk meestal al lager dan de Black Friday aanbiedingen en Apple is wel goed maar niet gek. Ben je student en kun je niet via SURFspot kopen, dan zitten er wel een paar dealtjes tussen. Betaal je normaal het volle pond, dan kan het geen kwaad om even te kijken.
Ik heb er een (niet compleet!) overzicht online gezet. Daar in kun je zien dat SURFSpot klanten eigenlijk dus elke dag Black Friday prijzen betalen.

(elk voordeel…)
[update] ik kreeg de, terechte, opmerking dat voor iPods de kortingen voor iedereen (binnen en buiten het onderwijs) kunnen oplopen tot ruim 10%, en dat is natuurlijk ook zo.