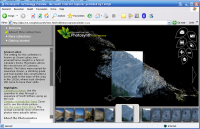 "It's been just a few short months since we announced Photosynth at SIGGRAPH 2006 in Boston and boy have we been busy! Today we're very happy to announce the first public release of our Photosynth Technology Preview. For those of you who've provided encouragement, ideas and spread the word we thank you. We hope that you'll enjoy our current work and continue to help us shape the technology as we push onwards. For those of you who found yourselves here after your buddy sent you a link to our website saying, "You've got to check this out!", read a little about

what we're doing

,

try it out for yourself

, and obviously tell everyone else you know."

(bron)
Ik moet zeggen, ik had niet verwacht dat het ook echt tot een product zou leiden waar wij als gewone gebruikers mee zouden kunnen spelen, maar het is er en het werkte meteen op mijn laptop. Even alleen een screenshot, als ik er tijd voor heb zal ik er een kort filmpje van maken. De interface is lekker snel zoals het hoort, er worden nog maar heel weinig foto's tegelijkertijd op het 3D-beeld gezet, (natuurlijk) nu eerst alleen voor IE 6 en 7 en het voornemen om het ook voor andere browsers geschikt te maken, en nog geen mogelijkheid om eigen collecties te maken. Maar het is een mooie stap die laat zien dat er sinds augustus hard gewerkt is.