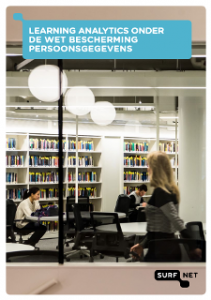 Als ik kan kiezen tussen het lezen van een boek of het bekijken van de film naar aanleiding ervan, dan kies ik altijd voor de film. Vandaag was het potentieel nog erger: ik had het rapport over Learning Analytics en de Wet Bescherming Persoonsgegevens al gelezen in de trein op weg naar de preconference van Dé Onderwijsdagen 2015 in Rotterdam. Maar gelukkig was de film, lees: de presentatie van Arnoud Engelfriet over het onderwerp van het rapport ondanks dat ik de afloop van het verhaal al kende, qua uitvoering veel leuker.
Aan de toch wat complexe en beperkende situatie waar we ons rond learning analytics voor gesteld zien, als je werkt volgens de vereisten van de Wet Bescherming Persoonsgegevens, kan ook Arnoud niets veranderen. Hij kan het gelukkig wel op een manier uitleggen zodat het voor ons allemaal duidelijk was én we er niet helemaal chagrijnig van werden. Waarom chagrijnig? Nou, omdat ik best snap waarom dit soort wetten er zijn. Om ons tegen (commerciële) bedrijven te beschermen die dingen met onze informatie willen doen die vaker niet in ons belang zijn dan dat ze dat wel zijn.
Maar bij Learning Analytics en onderwijsinstellingen zou je er vanuit moeten kunnen gaan dat het wél in belang van die student is. En de wet en met name de strikte regels lijken initiatieven op dat gebied nu vroegtijdig de nek om te draaien of onmogelijk te maken.
Een belangrijke opmerking tijdens de sessie was wat mij betreft dat het wellicht zinvol (en mogelijk ook heel goed haalbaar) is als we als onderwijsinstellingen gezamenlijk formuleren welke informatie we van studenten moeten vastleggen als noodzakelijk onderdeel van onze bedrijfsuitvoering. Dan zouden we ons leven een stuk eenvoudiger moeten kunnen maken.
Het rapport is in ieder geval hier te downloaden.