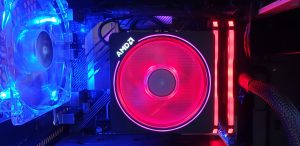 Gisteren heb ik in een uitgebreide post beschreven welke onderdelen ik uitgekozen had voor mijn nieuwe desktop.  Vandaag ga ik in op het bouwproces. Niet met een filmpje waarbij je de hele build van begin tot einde kunt zien.  Eerlijk is eerlijk, omdat het de eerste keer was durfde ik dat gewoon niet aan. Geen idee of het een probleemloos geheel zou worden of een paar dagen stressen.
Het werd een probleemloze build, een volgende keer zou ik het ook absoluut aandurven om de camera aan te zetten en het proces te documenteren. Maar dat is waarschijnlijk pas over 10 jaar. Het bouwen heb ik uiteindelijk samen gedaan met Niek, mijn 16-jarige zoon. Hij was, net als ik, thuis voor de herftsvakantie en wilde die graag een meemaken. Ook zijn conclusie was na afloop: dit zou hij nu ook zelf nog wel een keer durven nadoen.
Disclaimer: dit is een beschrijving van mijn eerste eigen build ooit. Ik heb dus niet de illusie dat het een "zo moet het en niet anders" handleiding is !!!