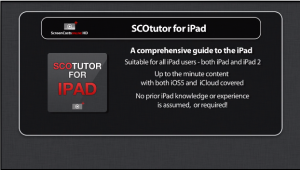 Op dit moment kun je (ik weet niet voor hoe lang) gratis kennis maken met een aantal van de tutorials die Don McAllister produceert voor ScreencastsOnline.com. Het gaat om de SCOtutor for Mac en de SCOtutor for iPad serie.
Het zijn beide introductieseries voor respectievelijk het gebruik van een Mac of van de iPad (uitgaande van iOS 5). Je kunt ze gratis downloaden vanuit de App-store op de Mac of op je iPad, dat geldt dus voor beiden. Je kunt dus SCOtutor for iPad ook op een Mac bekijken (niet op een Windows machine) of als je dat liever hebt op je iPad.
Een belangrijke reden om de video's op je Mac te downloaden zou kunnen zijn dat de applicatie bijna 1GB groot is. Alle video's worden meegestuurd in de download. Dat is handig omdat je ze dan offline kunt bekijken, maar vreet wel wat meer ruimte op een iPad.
Lees verder….