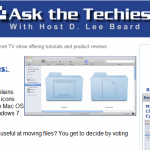 Ask The Techies omschrijft zichzelf als "Videos explaining the latest in cool technology from Photoshop to iPods. We specialize in multimedia and although we use Macs mostly, we do deal with Windows PC issues as well". Een site dus met video's over uiteenlopende applicaties en hardware met de nadruk op de Mac maar met af en toe uitstapjes naar Windows.
De afleveringen zijn meestal lekker kort (2-4 minuten met soms een uitschieter naar een minuut of 10) en in rap tempo (vind ik persoonlijk wel prettig). De setting waarin D.Lee Beard ziet er overigens heel professioneel uit. Hij beschikt over een touchscreen dat hij voor zich op tafel heeft liggen en waar hij de verschillende zaken op aanwijst. Naast hem zie je op een groot beeldscherm het beeld van het touchscreen. Maar omdat hij op het touchscreen ook een schermopname maakt, kan hij (dankzij de nabewerking, het is geen live show) schakelen tussen het full shot met hem erin en die met alleen het beeldscherm.
De afleveringen zijn in verschillende formaten online te bekijken (bv via YouTube of blip.tv ) of via iTunes (iPod versie of High Definition versie) of RSS te downloaden. De afleveringen zijn voorzien van een Creative Commons licentie.
Ben je beginnend of zelfs al een wat meer ervaring Mac gebruiker of ben je Windows gebruiker die meer wil weten van hoe bepaalde zaken op de Mac gaan/kunnen, dan is dit zeker een aanrader!