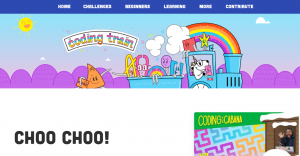 The Coding Train is eigenlijk een site die niet heel veel toelichting nodig heeft. Je kunt beter gewoon een paar filmpjes van Daniel Shiffman bekijken. Dan weet je snel genoeg of het iets voor je is of niet.
Ik kwam er zelf pas heel recent langs, deze maffe aflevering van Coding in the Cabana was mijn kennismaking. Daarna bekeek ik ook de andere twee afleveringen die er in die serie al waren en ging ik verder met de andere tutorials op het kanaal. Het zal er wel mee te maken hebben dat ik een nerd ben en er dus van kan genieten als een andere nerd helemaal uit zijn dak gaat als hij een programmeeruitdaging opgelost heeft.
Dat Daniel met Processing of P5JS werkt helpt daarbij absoluut omdat al zijn oplossingen wel een grafische component hebben. Dat maakt de resultaten ook interessant, zoals bij deze bijvoorbeeld:
Genoeg gepraat erover: gewoon even kijken! (en laat even weten wat je er van vind).