LET OP! (lichte) SPOILERS IN BOVENSTAANDE VIDEO!
Het laatste gevecht met Dominguez kostte me veel meer replays dan me lief was, het was een nogal frustrerend gevecht ook waarbij de controller soms letterlijk door de kamer heen vloog, maar ik heb het uiteindelijk overleefd (ik speel ook hier op de laagste moeilijkheidsgraad, dus het zou eigenlijk niet zo moeilijk moeten zijn).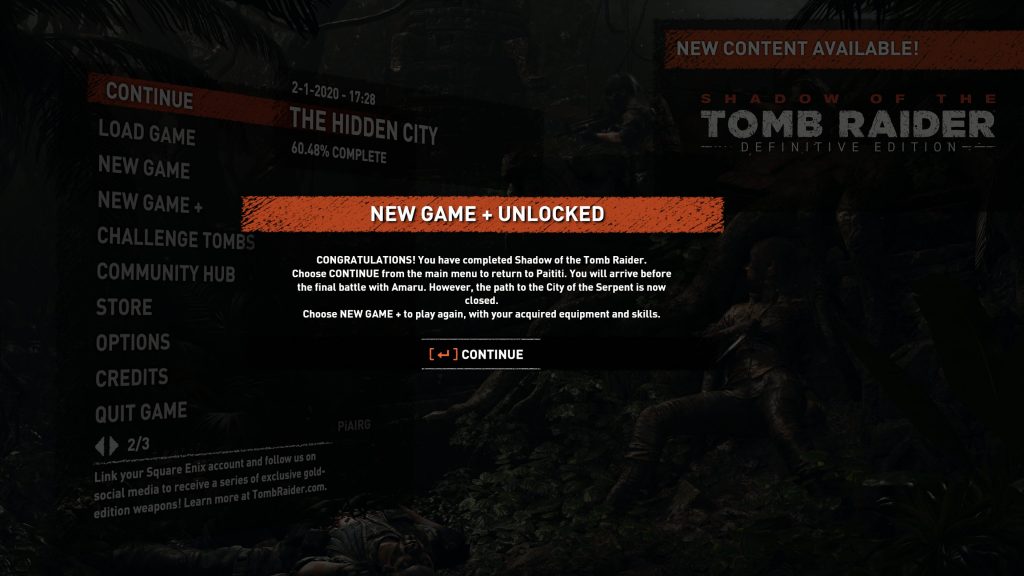 Het doorlopen van de hoofd verhaallijn betekent ook hier niet dat je niet meer verder mag spelen. Je kunt de kaart met alle plekken waar je al een keer eerder was nog gewoon bekijken en op die manier alle puzzels die je nog niet opgelost hebt en alle side-missions die je nog niet uitgevoerd hebt alsnog uitspelen. Shadow of the Tomb Raider beschikt over "fast travel" waarbij je van base station naar base station kunt teleporteren zonder een half uur door de game heen te rennen.
Net als bij Star Wars: Jedi Fallen Order  vrees ik dat ik daar waarschijnlijk weinig tijd aan zal spenderen.  Het voelt voor mij als het bekijken van de extra materialen die bij een film zitten: hoe ze de muziek gemaakt hebben, het idee achter het verhaal van de film etc.
Zoals dat ook voor Shadow of the Tomb Raider beschikbaar is:
Leuk om een keer te bekijken, Maar ik kwam voor het verhaal.
Conclusie na deze Tom Raider is wel dat ik definitief overgestapt ben naar de controller. Al was het mikken tijdens het schieten bij deze PS3-controller nog steeds onhandig. Met de muis heb ik veel en veel meer controle en snelheid als het gaat om het snel richten op een persoon op het scherm. Gelukkig kon ik in cruciale scenes die er snel nog bij pakken. Instellen van de gevoeligheid ervan (en het vervangen van de defecte PS4-controller) kunnen dan helpen.
En nu? Even geen nieuwe game? Of een van de andere games die ik tijdens de eindejaarsuitverkoop van Steam gekocht heb?  Of eentje uit mijn vorige lijstje? Wordt vervolgd.