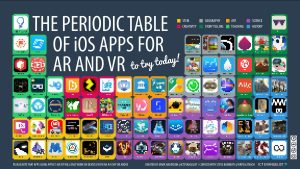 Als iemand iets ontwikkeld en dat dan gratis voor iedereen anders beschikbaar stelt, dan vind ik het altijd wat moeilijk of vervelend om daar een kritische blogpost over te schrijven. Immers: ofwel ik heb er wat aan en schrijf dat ofwel ik was vast niet de doelgroep en dan kan ik er beter niet over schrijven.
Met de periodieke tabel van AR en VR applicaties op iOS van Mark Anderson had ik beide gevoelens, dus toch een blogpost.
Allereerst: ben je geïnteresseerd in AR en VR applicaties op iOS, dan zou ik zeker een kijkje nemen in de lijst. De interactieve versie die hier staat is dan het gemakkelijkste omdat je dan meteen door kunt klikken.
De pagina met toelichting over het tot stand komen van de tabel legt uit dat de apps geschikt zouden moeten zijn voor leerlingen/kinderen van 4+ jaar oud. De apps zijn ingedeeld naar 8 themagebieden (in het Engels):
STEM
Creativity
Geography
Story Telling
Art
Teaching
Science
History
Leuk idee, maar het betekent ook dat er per categorie maar plek is voor een paar apps. Dan zou je verwachten dat dit de top-apps zijn die je zeker moet kennen. Nou heb ik ze niet allemaal nagelopen, maar TimeLooper in de categorie geschiedenis (helemaal rechts onder in de tabel) geldt dat volgens mij toch zeker niet. Die krijgt de nodige 1-ster reacties met voor mij als niet gebruiker duidelijk terechte kritiek. De app er naast  Sigurd & the Dragon VR  (overigens ook gewoon op Android beschikbaar maar daar heeft hij 1 review die 1 ster geeft)  heeft in de Apple winkel zo te zien nog geen enkele review.
Zomaar 2 willekeurige keuzes uit de tabel maar het geeft mijn weerstand tegen dit soort lijstjes weer.
Als je leraar bent: start dan met het doorkijken van deze lijst maar ga daarna heel snel zelf aan de slag met het bekijken van apps. Beschrijf welke jij leuk, interessant, toepasbaar vind en in welke context of met welke leerlingen. Want lijstjes zoals deze periodieke tabel zijn simpelweg te beperkend en vereenvoudigen de wereld tot een punt dat het eerder belemmerend werkt dan dat het helpt.
Steek ook niet teveel tijd in het maken van zulke lijstjes, ze zijn niet te onderhouden en morgen alweer achterhaald.