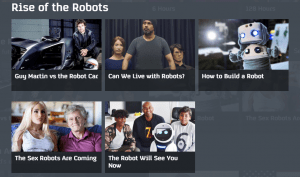 Met dank aan het (per ongeluk?) liken van de Facebook pagina van Channel 4, kwam er in mijn tijdlijn een verwijzing voorbij met een interessante vraag: "would you trust an AI robot?".
Het bleek een aankondiging te zijn van een documentaire die onderdeel uitmaakt van een week van aandacht voor robots bij Channel 4. Ze hebben in totaal 5 documentaires en films zoals Ex Machina en Robocop.
Het kunnen bekijken van de documentaires was nog niet zo eenvoudig. Ze zijn alleen beschikbaar voor IP-adressen vanuit het Verenigd Koninkrijk. Willem en Per-Ivar verwezen me door naar https://hola.org/ een gratis VPN-dienst waarmee je het kunt doen lijken alsof je in het VK bent. Kwestie van installeren en de extensie in Chrome installeren. Frans verwees naar een bericht waaruit blijkt dat het gebruik van Hola niet helemaal zonder bedenkingen is. Jouw verbinding kan tijdens het gebruik namelijk ook voor/door anderen gebruikers ingezet worden. Met mate gebruiken dus en tussendoor de plugin uitzetten. Of beter nog: een betaalde VPN gebruiken die dit nadeel niet heeft.
Na het aanmaken van een account met een adres in de VK, het weer aanzetten van de Flash-player in Chrome, kon ik eindelijk kijken.
Ik heb twee van de documentaires inmiddels bekeken. De eerste was "How to build a robot", de tweede "The robot will see you now". Bij de eerste kreeg David McGoran met zijn de opdracht om een robot te ontwikkelen die in staat is om ook een verbinding met mensen te krijgen. Mooi bij deze documentaire is zeker het ontwerpproces met de verschillende prototypes, tests ("knuffelen") en de shots van het handwerk in de werkplaats van het team. Pure promotie voor STEAM.
Op het YouTube-kanaal van het bedrijf van David vind je deze video die (zonder de mooie shots van de werkplaats) ook al een beeld van het ontwerptracject:
De scenes met het prototype, die vooral gesprekken op gang wist te brengen met kinderen en jonge vrouwen, waren voorspelbaar. Teleurstellend was het echter dat ik tot nu toe nergens online meer informatie heb kunnen vinden. Hoe lagen de verhoudingen precies? Hoeveel kinderen kwamen er voorbij en hoeveel daarvan reageerden positief/negatief? Wat kunnen we hier nu over meenemen bij het ontwerpen van andere robots? Alleen de boodschap dat het wellicht een idee is om ze letterlijk knuffelbaar te maken?
Er had wat meer in gezeten. En diezelfde kritiek had ik uiteindelijk ook bij de tweede documentaire.