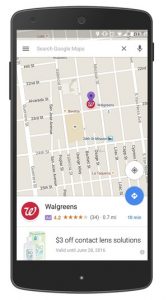 Bijna 11 jaar geleden ging ik voor het eerst aan de slag met GPS. Ik weet het, dat klinkt niet eens als lang geleden, maar dat was nog in de tijd dat je daar speciaal een GPS-ontvanger voor moest gebruiken.
Het op een kaart tonen van zo'n GPS-track was al helemaal niet vanzelfsprekend. En juist Google was in die tijd de pionier als het gaat om het op kaarten weergeven van GPX-bestanden of foto's. Kijk bijvoorbeeld maar eens naar dit bericht uit 2006 met daarbij een verwijzing naar deze geanimeerde track van een rit van werk naar huis. Zoiets als wat Relive nu doet voor Strava, maar dan 10 jaar geleden. 😉
Maar Google Maps is al lang niet meer de plek waar ik naar toe ga als ik iets met kaarten wil. Sowieso is het al een tijdje niet meer mogelijk om (eenvoudig) een GPX-track weer te geven op een Google Map, daar gebruik ik nu OpenStreetmap voor (zoals hier). Maar ook op de laptop, in de browser is Google Maps al heel lang traag. Zelfs (zeker?) in hun eigen Chrome browser. Ja ja, ik weet het: het is gratis, niemand dwingt me om er gebruik van de maken.
Maar is het niet gek dat iemand die al 10 jaar gebruiker van een product is, zich nu hardop afvraagt waar het tipping point ligt voor wat betreft Google Maps? Wanneer wordt het product zó onbruikbaar dat zelfs de kaarten van Apple of van Microsoft of van wie dan ook een beter alternatief zijn?
Zou dat nu zijn, nu ze (nog meer) reclame gaan tonen op hun kaarten? Of hebben ze echt al zó veel marktaandeel en marktkracht dat het onmogelijk is voor anderen om hen naar de kroon te stoten?
We hebben in het verleden wel vaker bedrijven gehad die in bepaalde segmenten een monopolie hadden dat onbreekbaar leek (bv Microsoft), wordt dit ook gewoon een kwestie van afwachten?
Wel jammer, ook Microsoft was niet altijd "evil" en het nieuw Microsoft is een stuk aardiger. Het was zo prettig geweest als Google ook gewoon dat vriendelijke bedrijf van een paar jaar geleden was gebleven.