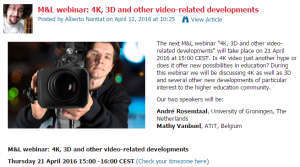 Op 21 april 2016 om 15:00 uur vindt het volgende webinar plaats dat M&L organiseert. Onderwerp dit keer is "4K, 3D and other video-related developments" en zal stil staan bij de vraag of 4K video slechts de volgende hype is of dat het meerwaarde heeft voor het onderwijs. Voor 4K lijkt me die vraag helder, dat zal gewoon stilaan de verwachte standaard worden voor video, net zoals HD dat nu is met de verwachting dat gebruikers voor mobiel gebruik en situaties waarbij de bandbreedte niet goed is, "lichtere" versies aangeboden krijgen. Eigenlijk is daar elke langere "discussie" over haast verspilde moeite die meestal gevoerd wordt door ICT beheerders die met angst en beven naar de netwerkcapaciteit binnen een onderwijsinstelling kijken. Deal with it, als Netflix het kan, dan is het duidelijk dát het kan.
De vraag of 3D meerwaarde heeft, die staat voor mij veel meer open. In zijn huidige vorm, dus met brilletje, blijft het op zijn best een leuke gimmick, iets waar een paar mensen enthousiast van worden, anderen doodziek en waarbij het praktische nadeel nog niet opweegt tegen de meerwaarde van het zien van diepte. Dan is zoiets als het lab in Tilburg mooi, buiten die setting niet toepasbaar. Zouden we dit soort schermen zónder bril kunnen gaan gebruiken, dán geloof ik er wel in.
Maar goed, ik loop natuurlijk daarmee erg vooruit op het verhaal van de twee sprekers,  André Rosendaal van de Universiteit van Groningen en Mathy Vanbuel van ATiT in België. Zelf ben ik die dag nog onderweg terug uit Estland, dus ik zal helaas niet online aanschuiven.
Wil jij dat wel, dan kun je je via deze pagina aanmelden.