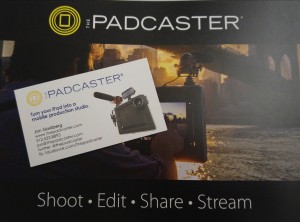 In het iXperium wordt vaak gebruikt van een iPad op een statief als het gaat om het opnemen van video (voor het green screen  of de vReviews). Daarom bleef ik even staan bij de stand van Padcaster. Het is een case voor om de iPad (mini) als hij op een statief bevestigd wordt. Hij wordt naar wens geleverd met richtmicrofoon er op, een videolamp, macrolens of een autocue. Voor dat laatste heb je dan wel weer een iPhone nodig (die krijg je er niet gratis bij).
Het is zo te zien een stapje omhoog als het gaat om kwaliteit en duurzaamheid. Het product is ooit gestart als Kickstarter project, hieronder staat een review uit 2014:
De setup is echter vergelijkbaar gebleven. En inderdaad, zoals de reviewer ook zegt: de camera in de iPad zelf wordt er niet beter van. Mooi product, beter dan een statiefhouder van 50 euro? Dat is een goede vraag waar ik nog geen antwoord op heb.