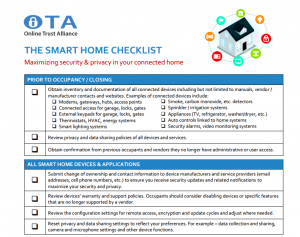 Onze buren hebben net hun huis verkocht. In hun geval denk ik dat het nog gewoon redelijk lijkt op wat je deed als je je huis 20 jaar geleden verkocht: leeg opleveren, alle sleutels verzamelen, contracten voor gas / water / elektra worden beëindigt of verhuist, eventuele onderhoudscontracten of huurcontract voor CV-ketel wordt overgenomen.
In de VS gaat men er vanuit dat dat steeds meer gaat veranderen. De Online Trust Alliance heeft in samenwerking met de U.S. National Association of Realtors, de nationale bond voor makelaars een checklist (PDF) opgesteld voor "Smart Homes".  Ik vind de checklist eigenlijk nog heel beperkt, want zaken als "online accountinfo voor de loggingdata van je zonnepanelen" staat er niet bij. En ik zou me toch echt wel voor kunnen stellen dat een koper ook graag toegang tot die data wil hebben. Of dat het relevant is/wordt om ook voor dat soort systemen de achterliggende logging-devices te kunnen benaderen.
In mijn geval denk ik overigens dat modems, gateways, routers etc. gewoon nog verwijderd worden. Maar ook hier is het waarschijnlijk een kwestie van tijd voordat die deels standaard bij het huis gaan horen zoals elektriciteitsleidingen er ook bij horen.
Bij slimme thermostaten neem ik aan dat de historische (verbruiks-)data niet gedeeld wordt met de nieuwe eigenaar, iets wat dan wel weer jammer is, dus wellicht is daar een samenvattende, anonieme, historische bewaar-optie ook wel interessant.
(Via PCWorld)