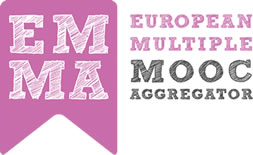 I will do this post in English so there won't be the risk of translation problems caused by Google Translate (or the own EMMA translation tool) if members of the EMMA team want to be able to read it.
So, a Summer School on the beautiful island of Ischia (pronounced "Iskia") in Italy. Was it worth it?
Let's start with the short answer to that question: yes, it was worth it.
Before I start with the long version of the answer, I want to confess that, when I registered my colleague and myself, I probably know less about the EMMA project than I could have or maybe even should have. If you look at the EMMA website, it does not look like a work in progress or an ongoing project: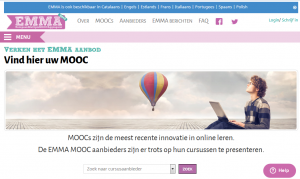 In itself that it good of course, but if you combine this with the flyer for the summer course it is easy to expect a fully functional platform and a step-by-step course in developing a MOOC on that platform. And that is not what we got. What did we get?
We got to spend a week with a project team that is faced with an immense task. Quoting the information on their website:
EMMA, the European Multiple MOOC Aggregator is a 30 month pilot action supported by the European Union. It aims to showcase excellence in innovative teaching methodologies and learning approaches through the large-scale piloting of MOOCs on different subjects. EMMA will provide a system for the delivery of free, open, online courses in multiple languages from different European universities to help preserve Europe's rich cultural, educational and linguistic heritage and to promote real cross-cultural and multi-lingual learning. EMMA is supported by the European Commission's CIP (Competitiveness and Innovation Programme) Framework Programme, it began in February 2014 and will continue until July 2016.
The project is now little of halfway and the site is up and running, the first MOOCs have run, the translation part is being integrated, first lessons learned are available, a business model for after July 2016 is being developed, they have been presenting at events both offline and online, and have organised a 5 day Summer School.

So we did not complete the design of a MOOC this week like we thought we would do. Instead we worked on different tasks related to MOOC design in different groups. Sometimes those were directly related to our MOOC, often they weren't. But that didn't matter in the end.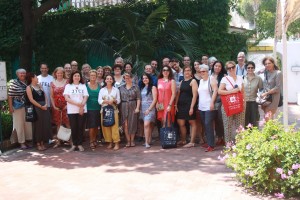 Because what we got, was the ability to collaborate with a lot of people that you can only meet during an event like this summer school. I am referring to the people in the picture above this text. Those are both the people from the EMMA project and the other participants. They all were people interested in the topic of the summer school, coming from different countries in Europe, with different backgrounds, different previous experiences and different ideas. All of us, participant or EMMA project member, had questions that we wanted to raise and answer that we could contribute to the questions of the others.
I know that a summer school, hosted on an island with excursions planned during the week raises eyebrows here and there. Or when people hear that I went for a swim in the pool every morning, even if they hear that that was at 7 AM, so before breakfast**. But if you want 25 people from all over Europe to work together, to discuss topics together, it simply helps if you do that in an environment that encourages that. And I must say, kudos to the organising team for they choice of venue and activities.
And it helped. Without going into the details, in our case I know that the summer school will result in a number of collaborations and contacts beyond this week. And I am sure we are not the only ones.
And that is also why, while typing this blogpost, it struck me that:
Using the common X/CMOOC analogy, I think I expected to get an XMOOC and instead ended up in a CMOOC. Looking back that was not a bad thing!
And for anyone that has never completed a CMOOC, it means that we all were integral parts of the endresult.
Does that mean that nothing could be done better next year? No, there are things that can be/need to be changed next time. A lot of sessions were engaging and interactive, with the person leading the workshop briefly explaining stuff, and then making us think and work via tasks. Those workshops always felt as being too short (while they probably were just right). But there also were sessions that were not interactive, were the speaker(s) just talked about the own experiences and/or achievements. Those were hard to stay focussed on. Not because the speakers were not knowledgeable, but because you simply cannot listen for 50-60 minutes in a row.
Still, even those session contained a lot of info. All slides of the sessions will be collected on this page.
I am not going to mention the crappy WiFi as something to improve. Because I know from personal experience that a lot of venues (also in the Netherlands) promise adequate internet access when you ask them about it, while they then cannot deliver. Not much you can then do as the organiser.
I don't know if a second edition of the Summer School is planned as part of the project. After all, the project ends July 2016. It probably also depends on whether the team can come up with a sustainable business model for EMMA. That will not be an easy task because obtaining a share of the market place for MOOC platforms, even with such specific features as the EMMA platform has, big enough to thrive will not be simple.
Multi-language MOOCs, even with the translation tools that are going to be available in the EMMA-platform, is not something to be taken lightly. It is (a lot of) extra work and you should be sure that it has enough added value for the provider. For example, for most Higher Education students in the Netherlands, a MOOC in English (instead of Dutch) should not be a problem.
But like I said at the beginning of the post, the week was more than worth the investment in time and money. Speaking of money, 770 Euro for a summer school including 7 days hotel + breakfast, lunch, diner + excursions is not a lot of money!
Grazie mille!
** OK, to be completely correct: that was only during the Friday and Saturday, the other days I did breakfast first and then went for a swim. 😉