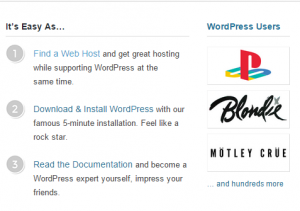 "It's Easy As… 1,2,3" schrijven ze op de WordPress website. Meer dan 3 stappen komen er niet kijken bij het in de lucht brengen van een WordPress website:
Zoek een webhost met WordPress ondersteuning;
Download en installeer de software;
Lees de documentatie, wordt een WordPress expert en maak indruk op je vrienden.
En eigenlijk kan het haast nog gemakkelijker. Want als je niet naar WordPress.org gaat maar naar WordPress.com, dan kun je daar helemaal gratis een weblog op basis van WordPress aanmaken.
In deze blogpost wil ik een aantal termen, begrippen en keuzes die je hebt als je een weblog wilt starten op basis van WordPress op een rij zetten. Daarbij ben ik gegarandeerd onvolledig. Niet alleen zijn er ontelbare andere opties, ik kan op dit moment simpelweg ook niet helemaal verzinnen hoe ver en hoe diep ik dingen moet beschrijven om het breed genoeg begrijpelijk te maken.
De kans bestaat ook dat ik hier en daar onzin vertel of dingen die toch niet helemaal juist zijn. Daarom zijn aanvullende vragen én opmerkingen, links, uitleg van harte welkom!
Ik zal ze zo veel mogelijk verwerken in vervolgposts en verdieping. Wel de vraag om vooral bij de aanvullingen in de gaten te houden wie de doelgroep is: gewone mensen (docenten, studenten, ouders, amateur bloggers) met niet heel veel (in ieder geval geen super) technische kennis.
Mensen dus waarvoor het onderhouden van een server niet hun werk is.
p.s. Even voor de duidelijk: reacties waarin webhosting X of Y aangeprezen wordt zie ik waarschijnlijk als SPAM. Het betekent niet dat je nergens naar mag verwijzen, maar als je allereerste reactie hier uit niet meer bestaat dan "Ik zit bij X en ben daar heel tevreden!", dan liever niet. 🙂
p.p.s. Ik merk dat ik veel woorden nodig heb voor de uitleg, dus wordt het een bericht in meerdere delen.
OK, laten we beginnen.
Lees verder….