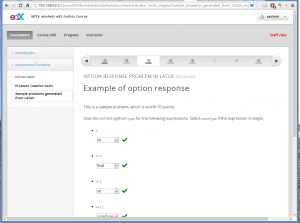 Na het kritische bericht gisteren over het installeren van de edX omgeving op een Raspberry Pi, moest er natuurlijk wel een vervolg komen over de bruikbaarheid van het alternatief dat ik zelf noemde: het installeren van de omgeving op je eigen desktop of laptop. En dat gaat een stuk beter. Zoals in de instructies uitgelegd wordt moet je twee tools downloaden en installeren: Vagrant en Virtual Box.
Virtual Box kende ik, nog van voor dat het door Oracle werd overgenomen, Vagrant was voor mij nieuw, maar de tool zorgt er voor dat je (zonder dat je zelf Virtual Box opstart of in de omgeving bezig bent) in Virtual Box een virtuele machine krijgt met daarop de edX omgeving.
Daarvoor moet je wel eerst een nogal groot .box bestand downloaden. Nou zou voor mij 3,8 GB geen echt probleem moeten zijn, maar de download brak tot twee keer toe halverwege zonder echte reden af toen ik het vanuit Google Chrome probeerde. Daarom heb ik deze DownloadManager gedownload en uitgepakt (is een portable applicatie, dus geen installatie nodig) en daarmee ging de download sneller en zonder verdere problemen.
Het duurde daarom wat langer dan de beloofde 10 minuten voordat ik de omgeving in de lucht had, maar op zich allemaal niet ingewikkeld. En de snelheid was op mijn desktop prima.
Lees verder….