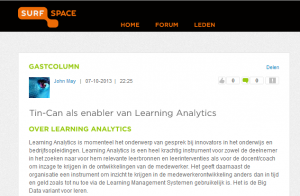 Op SURFspace vraagt John May zich af of Tin Can, de uitbreiding op SCORM die gericht is op het verzamelen van data over het leerproces van studenten (dat klinkt natuurlijk wel heel erg mooi) een enabler kan zijn voor Learning Analytics.
Zijn conclusie, heel kort door de bocht, is dat het nog wel even zal duren voordat we daar in Nederland mee aan de slag gaan, en hij voorzien nog wel een interessante trip naar een of meerdere buitenlandse conferenties om hierover op de hoogte te blijven. 😉
Het is namelijk maar de vraag of en hoe snel Tin Can in Nederland geïmplementeerd wordt. In het geval van SCORM duurde dat ook even én was het zo dat er ook partijen waren die onderwijskundige problemen hadden met de opzet van het referentiemodel (<> standaard).
De tweede uitdaging die John signaleert is de interpretatie van de data die gelogd wordt door Tin Can. Dat lijkt niet vanzelfsprekend. Kan ik me iets bij voorstellen, maar dat is het ook als je wél een heel gestructureerde datastructuur hebt. Want daar ligt namelijk de uitdaging (valkuil / drempel) bij Learning Analytics: hoe maken we chocolade uit de data die we hebben?
En wat betreft snelheid van implementeren denk ik dat we in Nederland heel verstandig beginnen met het kijken naar welke data we al hebben en welke lessen we daar al uit kunnen trekken als het gaat om het beter begrijpen van het leerproces van de student. Investeren in het vergroten van de "bak met data" is dan stap twee, maar dan wil je ook al een beetje weten welk soort data je dan extra nodig hebt. Dat Tin Can daar bij kan helpen is dan meegenomen, maar ik denk inderdaad dat we voor de implementatie daarvan volgend jaar nog naar Educause toe moeten of zo.