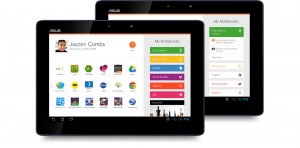 Het is een dilemma waar we in Nederland nog even alleen maar over hoeven te filosoferen, de AmplifyTablet zal (voorlopig) nog niet in Nederland op de markt gebracht worden. Maar goed, als gedachtenexperiment: zou je het aandurven als onderwijsinstelling om een tablet af te nemen bij een divisie van News Corporation, het bedrijf van Rupert Murdoch?
De tablet is er eentje van Asus, vergelijkbaar met de 10 inch ASUS Transformer Pad TF300TL. Het apparaat draait op Android Jelly Bean en heeft een accu die 8,5 uur meegaat, genoeg dus voor een hele dag op school. Er is er eentje met alleen Wifi en eentje met Wifi en 4G.
Als een school minimaal 1.000 studenten/medewerkers inschrijft en zich voor minimaal 2 jaar vastlegt, dan kost de versie met Wifi eenmalig $299 en $99 per jaar en het model met 4G kost $349 eenmalig en $179 per jaar. Er staat op de pagina niet bij of dat inclusief een 4G data-abonnement is, maar in het artikel in The New York Times staat van wel.
Maar het gaat zeker niet alleen om de hardware, onderstaand filmpje laat zien dat het een totaaloplossing is:

En daar wordt het natuurlijk een stukje enger.
Lees verder….