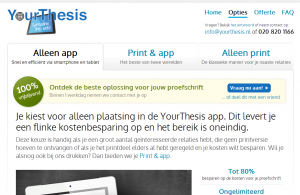 Nu mijn promotieonderzoek in zijn afrondende fase terecht is gekomen ben ik bezig met het samenstellen van mijn proefschrift. Voor een deel is dat natuurlijk puur inhoudelijk werk, maar ik moet ook nadenken over hoe ik dat proefschrift straks wil verspreiden. Helaas ontkom ook ik er niet aan om het in ieder geval op papier te verspreiden. Dat wordt voorlopig gewoon nog verwacht en zelfs vereist.
Maar natuurlijk wil ik ook een digitale versie beschikbaar stellen. Dat zal in ieder geval als downloadbare PDF gebeuren, dat is immers het meest gangbare digitale formaat voor dit soort uitgaven (al zal ik even alle copyright transfer formulieren naast elkaar moeten leggen om van de gepubliceerde hoofdstukken te checken of dat mag!) maar een versie die je eenvoudig online of op een tablet kunt lezen zou ook wel heel mooi zijn.
Het is dan ook niet vreemd dat ik het bericht op ipadclub.nl over YourThesis met veel belangstelling gelezen heb. Zou dit ook voor mij een optie zijn?
Lees verder….