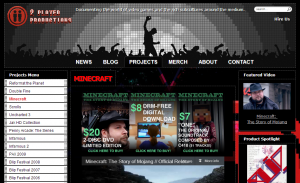 Toen ik eind december melding maakte van het via bittorrent beschikbaar komen van de film Minecraft: The Story of Mojang had ik zelf nog niet de tijd gehad om de documentaire, hij duurt 1 uur en 44 minuten, te bekijken. Inmiddels wel en dus bij deze een follow-up post met wat opmerkingen.
Laat ik beginnen met alle positieve opmerkingen: de documentaire zit qua productie prima in elkaar. Het is daarnaast ook heel mooi dat het mogelijk was om deze documentaire te maken dankzij ruim 3.000 'backers' die een bijdrage toezegden via Kickstarter. Dat past wel bij een film over een Zweeds bedrijf (Mojang) dat gestart is vanuit de droom van één man, Markus 'Notch' Persson, die een spel maakte dat veel populairder werd dan dat hij zelf vooraf had kunnen vermoeden. De documentaire brengt mooi de wat introverte Markus in beeld, met zijn vriendin/vrouw/ex Elin als persoon die beter onder woorden weet te brengen wat hij eigenlijk vindt.
Maar er zijn ook een aantal dingen die niet zo goed zijn aan de documentaire. Ten eerste de lengte. Er had zeker 45 minuten van de totale lengte weggesneden mogen worden. Dat had voor een deel bereikt kunnen worden door een aantal van de jubelende personen die vertellen hoe vernieuwend, nieuw, revolutionair, schitterend, fantastisch Minecraft wel niet is, veel korter aan het woord te laten.
Lees verder….