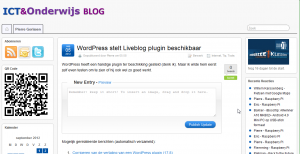 WordPress heeft een handige plugin ter beschikking gesteld (denk ik). Maar ik wilde hem eerst zelf even testen om te zien of hij ook wel zo goed werkt.
Het is een plugin waarmee iedereen eenvoudig een liveblog optie kan toevoegen aan zijn WordPress blog zonder afhankelijk te zijn van externe diensten.
Je krijgt dan als auteur(s) een "new entry" vakje in de blogpost zelf en kunt daar (korte) berichten, updates en foto's plaatsen. Lezers krijgen dan meteen een notificatie van de nieuwe bijdragen.
Helaas werkt het hier nog niet, als ik deze bugmelding goed begrijp ligt het aan het feit dat ik aangepaste URL's gebruik (anders dus dan de ingebouwde URL-structuren). Dat kan ik niet even omzetten omdat dan alle links naar oude berichten stuk gaan. Het wachten is dus op een update van de plugin. Zie hier voor screenshots en een filmpje.
Het mooiste zou zijn om het ook goed op de iPad of iPhone te kunnen gebruiken, dat lijkt zo te kunnen, maar op dit moment lukt het uploaden van foto's via Mobile Safari nog niet. Ook moet ik bekennen dat ik op een toetsenbord nog steeds een stuk sneller weet te typen.
[7:03 update] Zie hieronder. Ik bleek versie 1.0 te hebben gekregen en 1.1 loste het 404-probleem op. De live entries hieronder moet je van onder naar boven lezen (oud staat onderaan, nieuw bovenaan).
[6-9-2012] Nog een tip! Je moet de "more" tag gebruiken om er voor te zorgen dat lezers van de voorpagina er op gewezen worden dat er meer vast zit aan het bericht.
Lees verder….