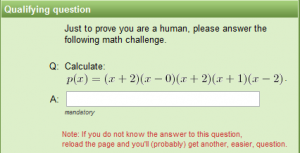 De LA Times bericht over een wel heel pittige test om te laten zien dat je een mens bent en geen machine bent (CAPTCHA = "completely automated public Turing-test to tell computers and humans apart"). Hij wordt gebruikt door het Ruđer Bošković Instituut voor hun Quantum Random Bit Generator service.
Als je je daar voor wilt aanmelden, dan krijg je een wiskundige opdracht die je eerst even moet oplossen voordat je het formulier kunt versturen.
Nou schrijven ze bij de LA Times dat zo'n probleem tegenwoordig een makkie is omdat we gebruik kunnen maken van Wolfram Alfpha. Daarmee zou je de problemen heel eenvoudig moeten kunnen oplossen. Maar hoewel ik best wel een eenvoudige uitdaging kreeg (zie de afbeelding hierboven) en er dus in slaagde om die in Wolfram Alpha in te voeren, brengt me dat nog niks dichter bij een antwoord. Het levert namelijk geen vast getal op als ik niet weet wat x in dit geval is.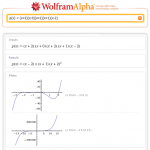 Geen willekeurige getallen voor mij dus.
Toch zou het wel een aardige zijn om op meer plekken toe te passen. We moeten toch vast wel een paar onderwijs gerelateerde systemen kunnen bedenken waar we dit soort checks op kunnen toevoegen? Ze hoeven niet zo moeilijk te zijn als hier, maar wat gemakkelijker dan de eenvoudige optelsommen die je hier en daar ziet. Zou meteen het wiskunde niveau op de gemiddelde onderwijsinstelling een stuk stijgen. 😉