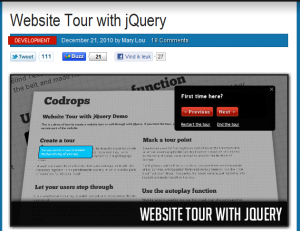 Het is er eentje waarvan ik eerst dacht "cool" en daarna "maar wanneer zou ik dat nou willen gebruiken?", dit jQuery script waarmee je eenvoudig een rondleiding kunt bouwen voor je website.
Zou het niet zo moeten zijn dat je website zich zonder zo'n rondleiding moet laten bedienen? Is het toevoegen van zo'n rondleiding niet een signaal van je onderbewustzijn dat je het allemaal eigenlijk net iets té complex of té onoverzichtelijk hebt gemaakt voor gewone gebruikers en bezoekers?
Dat Facebook het gebruikt heeft om de functionaliteit van de nieuwe profielpagina uit te leggen vind ik dan ook niet echt een overtuigend voorbeeld.
Ik parkeer hem maar eens gewoon even hier. Wie weet kom ik er nog wel op terug. En als jullie in de tussentijd ideeën hebben voor zinvolle toepassingen, dan hoor ik het graag.
p.s. Op zich zou je het natuurlijk kunnen gebruiken als een soort aanvullende instructie bij online e-learning materiaal. Maar of dan zo'n lineair pad voldoende is?