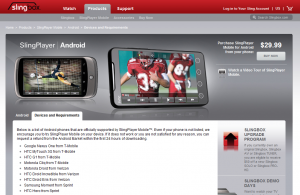 Het is nu eenmaal een gegeven dat op dit moment je meer keuze hebt uit applicaties voor de iPhone dan voor Android. Dat is niet erg zolang de belangrijke applicaties er maar zijn.
Nu zal de Slingplayer zeker niet voor iedereen een belangrijke applicatie zijn, maar het is er eentje die wat mij betreft gewoon niet mag ontbreken wil Android zich ook als multimediaplatform bewijzen.
Met de Slingplayer applicatie kun je het TV-signaal vanaf je Slingbox doorsturen naar je PC (Windows of Mac), Windows Phone, iPhone of iPod Touch, BlackBerry, Symbian toestel en zelf sommige toestellen met Palm OS. De eenvoudigste Slingbox is de Slingbox Solo. Die Slingbox Solo (tegenwoordig ook weer in Nederland te koop) kun je zien als een soort geavanceerde afstandbediening voor je decoder. Ik heb hem aan mijn UPC Mediabox hangen en kan dus op mijn iPhone alles zien en doen wat ik op mijn Mediabox kan doen en zien.
Ideaal dus voor die mensen die toch op hun iPhone naar het WK voetbal willen kijken of die dat vanuit het buitenland willen doen.
Of de kwaliteit van de video op Android toestellen net zo goed is als op de iPhone kan ik helaas niet testen. Niet alleen is de applicatie niet gratis ($29,99), belangrijker probleem is dat ik op het moment geen Android toestel met toegang tot de Android Market ter beschikking heb. Als er iemand nog een toestel in de buurt heeft dat getest mag worden hou ik me aanbevolen.
Geen Slingplayer op de enTourage eDGe dus ook omdat die geen toegang heeft tot de Android Market, en dat geldt ook voor de meeste tabletachtigen met Android die er nu al zijn. Hoewel het wat betreft eisen aan het OS best zou moeten kunnen, minimum eis is namelijk Android 1.5