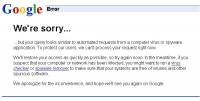 Ik nam aan dat het (weer) een bug was, maar ik schrok wel even toen ik vanochtend deze melding te zien kreeg: "We're sorry… … but your query looks similar to automated requests from a computer virus or spyware application. To protect our users, we can't process your request right now.
We'll restore your access as quickly as possible, so try again soon. In the meantime, if you suspect that your computer or network has been infected, you might want to run a virus checker or spyware remover to make sure that your systems are free of viruses and other spurious software.
We apologize for the inconvenience, and hope we'll see you again on Google."
Ik krijg de melding op het moment bij elke zoekopdracht die ik vanuit Firefox (niet bij Internet Explorer) uitvoer bij Google.com ('Google in English'), dus bijvoorbeeld http://www.google.com/search?hl=en&q=spyware of http://www.google.com/search?q=pierre gorissen terwijl bij de Google.nl site diezelfde zoekopdrachten geen enkel probleem opleveren.
Ik kan het verschijnsel niet reproduceren op een andere laptop met Firefox, dus ga ik toch voor de zekerheid maar even een extra scan op spyware uitvoeren op mijn laptop.
[7:37] Vreemd, nu kan ik het helemaal niet meer reproduceren. Maar ook geen spyware gevonden/verwijderd. Toch een tijdelijke hickup van Google?